Favourite Ingredient: Shana Frozen Parathas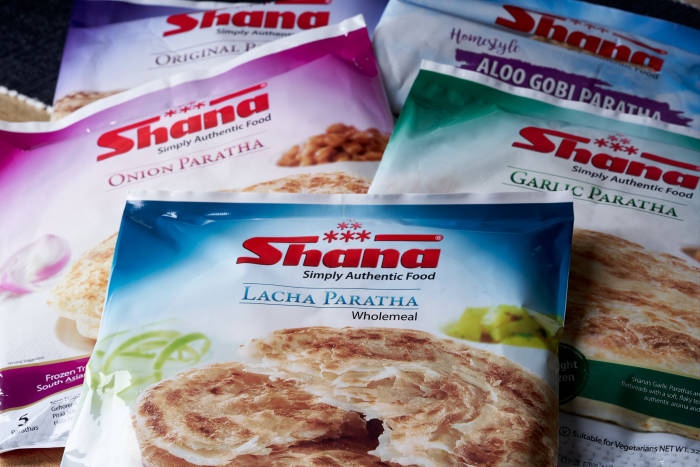 Taste of Malabar (formerly Café Malabar) in Norwich makes the most delicious, flaky, buttery parathas (Kerala Porotta on their menu) and as soon as I tasted one I became obsessed. When Taste of Malabar closed due to Covid-19 I discovered frozen parathas via a tip in the Dishoom cookbook. Of course they aren't the same as Taste of Malabar's fresh and addictive offerings but these are the next best thing, particularly for a lazy person who usually leaves bread making to a machine.
Shana frozen parathas come in stacks of 5 or 15 and are raw and pre-rolled. All you have to do is put one into a hot, dry frying pan, flip it a few times and minutes later a fresh, golden paratha is yours to enjoy. I've tried all the varieties (apart from the reduced fat ones) and while they aren't quite as flaky as Taste of Malabar's (who make the best parathas in Norwich in my opinion) they're excellent for shop-bought, cook at home bread; no need to knead, prove or shape. I seem to get on really well with frozen baked goods and I've previously written about how much I love frozen croissants. They have that freshly baked taste and crisp texture that pre-baked breads and pastries (even when reheated) seem to lack. Shana frozen parathas have completely replaced ready-made naans and chapatis in our house.
The wholemeal paratha is just as tasty as the original white version and the flavoured varieties like garlic and onion are great but the aloo gobi stuffed paratha is my favourite. They're a bit chunkier so you get one less in a pack and they cost £2.79 compared to £1.69 for the standard parathas but they're worth it. 
My favourite grocer, Asian Bazaar on Magdalen Street in Norwich, stocks a wide variety of Shana parathas and I've occasionally found them on the Sainsbury's website although they seem to come and go. The flat packets hardly take up any room in the freezer and while the parathas are a great side dish for any Indian meal, we've also been eating them for weekend breakfasts in the form of kati rolls, either plain with eggs or stuffed with avocado, tomato, spinach or spring onion. I've even used them in place of naan for Dishoom's bacon naan roll because I don't have the energy to make fresh naan for breakfast and frozen parathas are an enormously delicious and satisfying alternative.