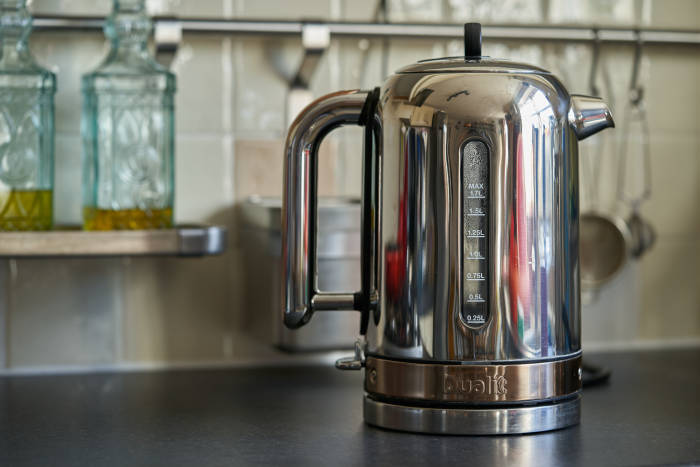 Summary
+ Long lifespan (potentially)
+ Quiet
+ Quick
+ Functional, clean design
+ Dual measurements
– Long-ish turnaround time for repair
– Poor light
– Can't empty kettle fully
– No push button lid
Before I bought the Dualit Classic Kettle (affiliate link) my previous kettle came from Magimix and lasted for more than seven years. I wanted to replace it with exactly the same model but when I searched online I found that it had been discontinued after receiving a slew of poor reviews. I don't know if I got lucky but I loved that kettle. It had a pleasing design, a bright blue light that clearly showed the water level and a button to open the lid. The customer service was also good; I broke the plastic mesh filter while descaling the kettle and Magimix sent me a new, improved metal filter for free.
I reluctantly replaced the Magimix kettle with one made by Smeg. A holiday apartment we stayed in had a Smeg kettle that seemed fine and by this point Smeg had stopped manufacturing their appliances with logos made from stickers, so we bought it. What a mistake and it serves me right for not doing my research. The shape of the kettle is square so unless you place it back on its base just so, it looks skewed and wonky. This probably isn't a huge deal but I'm fussy and like to reunite my kettle and base without giving either a second thought. Worse though, after the kettle boiled, the lid would stick and I'd have to repeatedly jab at the button to get it to open.
After some proper research the Smeg kettle was replaced with a Dualit Classic Kettle. I wasn't entirely sold on this model to begin with because it lacked a push button lid. I know it sounds like yet another small inconvenience but if you cook a lot and want to boil the kettle several times in a row, having a button means that the lid simply pops open and you refill. The alternative usually involves tugging on a tiny plastic ring and burning your fingers on a hot lid.
The good bits
The hinged lid is fine
I needn't have worried about the hinged lid as the Dualit Classic Kettle has a reasonably sized heatproof ring and finger guard. I'd prefer a button but the kettle is built for longevity and a push button lid can be a point of weakness so I understand this design decision. Some people have complained that the lid can be stiff and a (non official) solution is to carefully realign the small catches on the inside of the lid with a screwdriver (see the second photo). My lid was fine so I didn't need to do this.
Long lifespan (in theory)
The Dualit Classic Kettle has a replaceable heating element, which is supposedly the component that's most likely to fail. As long as you're willing to pay for a repair if this happens then this kettle should have a long lifespan.
The replacement heating element isn't available to purchase on the Dualit website because you have to send the kettle to Dualit for repair; you can't do it yourself because specialist equipment is needed to replace the element and safety test it. The cost is £42, which includes parts, labour and return postage. The owner is responsible for the outward postage cost and recorded delivery is recommended so I'd assume a total of around £50, give or take. Turnaround time is 10-14 days once Dualit receives the kettle and if the heating element isn't at fault then a new quote will be issued for the repair.
I've listed the replaceable element as a pro because if you get years of use from the kettle and then have to pay £50 for a repair that will give you even more years of use, it could be cost effective. Having said that, a quick search has unearthed a £15.99 kettle with over 4000 reviews and a 97% recommendation rate but it's not really a like-for-like comparison and will come down to personal preference. Annoyingly, whenever I buy things I can't stop the phrase, "buy cheap buy twice" bouncing around my head but I'm sure there are plenty of cheap, decade old kettles in people's kitchens still going strong.
Reasonably quiet
The Dualit Classic Kettle and its Whisper Boil™ technology ("whisper" is a bit of a stretch) have been awarded the Quiet Mark - the international mark of approval from the Noise Abatement Society - and is supposedly one of the quietest kettles you can buy. I don't find it to be noticeably quiet or loud. If I have the radio or TV on at a reasonable volume I can hear neither while the kettle boils but I wouldn't expect to and it doesn't take long to boil, which brings me to my next point.
Quick
Unless you've filled the kettle to its maximum capacity it boils water quickly. The spec says, "Superfast 3KW element" and it does feel speedy with a litre of water taking 2 minutes 14 seconds to boil (I've verified this claim and it's precise down to the second).
Functional, clean design
The square-shaped Smeg kettle has given me a brand new appreciation for perfectly round kettles and the design of the Dualit Classic Kettle is simple and clean. The build quality feels sturdy and although I try to take good care of the kettle I've knocked it a few times. You'd never know though as it still looks great and has no visible dings or dents.
The kettle has a well designed, non-drip spout named "Pure Pour™", which is different to Dualit's other spout, "Sure Pour™" (the names tickle me). There's a small insert behind the spout that directs the water and makes pouring from the kettle weirdly satisfying. The spout is much better than the one on my old Magimix kettle, which used to fur up with limescale and dribble water when pouring, so plus one for Dualit.
Dual measurements
I find litre measurements on a kettle incredibly useful for cooking so if the measurements are only in cups then it's a deal breaker for me. Thankfully the Dualit Classic Kettle has both: cups on one side, litres on the other. It might just be me but I don't find cup measurements useful, even for drinks, and while I could measure the water before pouring it into the kettle, it's nice when a small design decision saves one extra job in the kitchen.
The bad bits
Fairly long turnaround time if you need a repair
If you need to send your kettle to the repair department you could be without it for around two weeks.
Poor light
The light on the side of the kettle is pretty feeble and doesn't show the water level. It's never caused me to boil the kettle empty and there's a boil-dry safety cut-off feature but I miss the bright light on the Magimix that illuminated the measure clearly.
Can't fully empty the kettle
The kettle has a lip around the opening which retains the last bit of water no matter how much I try to drain it. If you live in a soft water area this won't be an issue but if you have hard water it's a minor annoyance and I mention it because I haven't had this issue with other kettles. Brita filtered water and regular descaling help but there's always a tiny bit of water and a few limescale crumbs sitting in my kettle.
No button to open the lid
I know I've covered this already but I love a push button lid and I can't list the cons without mentioning it. Dualit have included a push button lid on some of their other models like the Architect kettle but it has a smaller capacity (1.5 litres) and no litre measurements so it's not for me.
Overall thoughts
The Dualit Classic Kettle is well made, robust and should last a long time, which you'd expect given the above average price tag. I don't mind paying more for an appliance if it means that I won't have to replace it every few years and so far this kettle has functioned perfectly for two and half years almost six years with no signs of wear and tear.
The price varies from around £125 to £145. It's a lot to spend on a kettle but I took a leap of faith as I have a Dualit toaster that has only just started to struggle after 12 years of faithful service (it needs a new timer). Lack of push button lid aside, the Dualit Classic Kettle has all the features I want and if it lasts anywhere near as long as my toaster I'll consider my money well spent.
Would I replace it if it broke tomorrow?
If the marketing for this kettle is to be believed then I shouldn't have to but yes, I would.