Favourite Ingredient: Dragonfly Marinated Tofu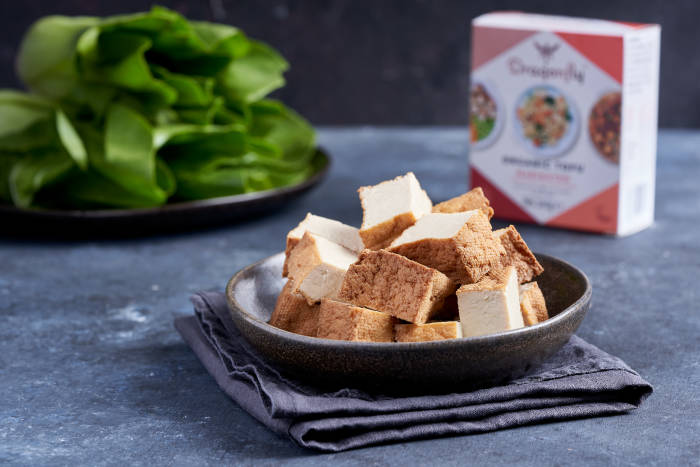 I tried Dragonfly Marinated Tofu several months ago and I haven't bought any other kind of tofu since. According to the box it's "infused with Tamari and Exotic Spices" (as well as being organic, vegan and gluten free) and although I've eaten marinated tofu before, this is on a whole other level. It has so much flavour as well as numerous glowing reviews on the Ocado website. I bought some for a friend and she messaged me to say, "THAT TOFU WAS AMAZING!!!!". 
It's quite firm and my favourite way to eat it is cold, straight out of the box, but it's lovely stir-fried, roasted or warmed up in soup. I'm looking forward to the weather improving so I can barbeque it and feed it to people who "don't like tofu" because I'm positive that they'll like this one. And if they don't then I'll happily hoover up the remains. 
One box contains two blocks of tofu and Colin and I eat a block each - a less hungry person might save the second block for another day but I've never managed this.
Dragonfly Marinated Tofu costs £2.29 from Ocado (although it's often reduced) and it can be purchased from other online stores. I happily buy it regardless of the price as it keeps for a long while in the fridge and makes a fantastic last minute dinner with noodles and vegetables. It's especially good with my other favourite ingredients, Mizkan Oigatsuo Tsuyu Bonito Soup Base and Yutaka Frozen Udon Noodles - just add some veg and you've got a delicious, healthy dinner that comes together in less than 15 minutes.