The Curry Guy's Curry House Base Sauce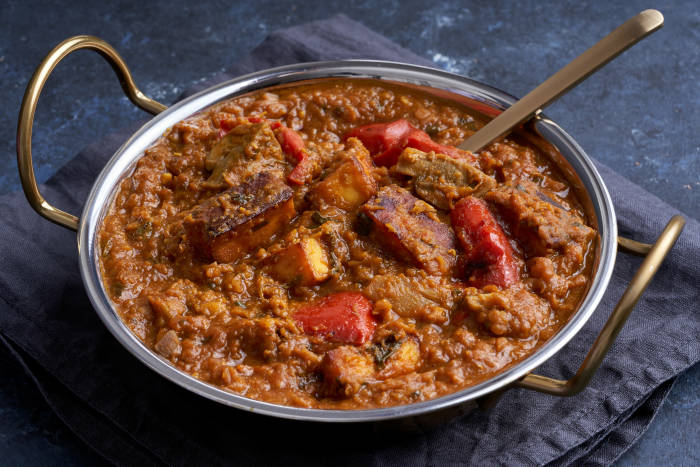 My colleague, Anna, told me about a base curry sauce she'd made that could be cooked in advance and quickly turned into restaurant quality curries. I had to try it. The base sauce requires ten onions but Anna said she'd made a half batch, which was enough for four curries. I dithered but ended up making the full amount because the reviews are great and if the curries really are restaurant quality then I anticipate getting constant requests from Col, whose face lights up like Christmas at the prospect of a good curry.
I turned my first portion of base sauce into a paneer, pepper and mushroom dhansak and it was incredible; just like the dhansaks we've had in restaurants but less greasy (I used Dan Toombs' chicken dhansak recipe). I had a bit of a battle with the recipe, which was my fault because I forgot that the base sauce needs to be diluted before it's used. I'm writing up some pointers because it'll be a good while until I make the base sauce again (there are at least six portions currently in my freezer).
Notes on the base sauce:
Dilute to the consistency of single cream with water or stock before using in a curry (not before freezing).
A 6 litre saucepan is a good size to manage all the ingredients.
I didn't have fenugreek powder so I used dried fenugreek leaves instead.
Ingredients listed together, e.g. 9 tablespoons ginger and garlic paste, mean 4½ tablespoons of ginger and 4½ tablespoons of garlic.
I wasn't sure what 9 tablespoons of ginger and garlic paste* equalled in knobs and cloves so I took a guess and went with 1 bulb of garlic (37g after the cloves were peeled) and 47g of peeled (frozen**) ginger.
I chopped the ingredients very roughly because they'll eventually get blended.
My stick blender was invaluable for this recipe and made blending the sauce really easy.
Once the sauce is blended and the ghee/turmeric mixture is added, put a lid on the pan while it simmers, slightly propped open with a wooden spoon. The sauce is like molten lava and it spits everywhere; most painful if any lands on an uncovered wrist.
As the sauce will eventually be diluted, freeze it in 1½–2 cup batches (375ml–500ml), rather than 3 cups (750ml) as a lot of Dan's recipes call for around 700ml of diluted base sauce. The batch size doesn't need to be especially precise.
Notes on the dhansak recipe:
One commenter recommended adding lemon juice to achieve the sourness associated with a dhansak. The juice from ½ a medium-sized lemon is a good amount.
The recipe doesn't need to be made with meat (although I will try this). It works beautifully with vegetables or paneer (or both).
Tinned pineapple in juice works well - no need for fresh pineapple.
General notes:
I bought ghee especially for this recipe and the smell as it heats up is wonderful. I'm sure it contributes to the authentic curry taste.

I'm only going from the one dhansak two dhansaks and chicken pathia that I've made so far but I can't recommend Dan Toombs' base sauce enough. It's no mean feat to be able to replicate curries served in curry houses at home, but between Dan's base sauce and the Dishoom cookbook, it actually feels achievable. I love Dishoom's Chicken Ruby, which uses makhani sauce as a base, but Dan's base sauce feels a bit lighter and one batch goes a long way, whereas one batch of makhani sauce makes one Chicken Ruby. 
★ ★ ★
* Making ginger and garlic paste is brilliant if you cook a lot of Indian dishes. I made them when I first got the Dishoom cookbook but I've since reverted to using garlic cloves and frozen ginger as and when I need them. I found the pastes a bit of an effort to make and I wasn't getting through them quickly enough.
** I keep peeled, sliced ginger in my freezer so I always have ginger to hand. For me, it's as good as fresh and lasts for ages, unlike when it's refrigerated. 
Recipe credit