Things I've cooked while in lockdown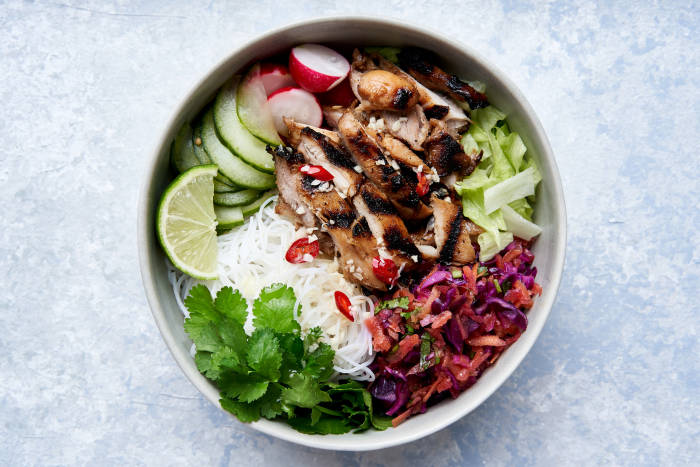 Like most people (who don't have kids) I've recently had more time on my hands and can think of no better way to use it than by trying out new recipes. My weeknight cooking used to involve coming home from work, getting something quick and easy on the table (pasta), then getting on with my evening. Now everything's different and new, untested recipes are no longer confined to the weekends. These are some of my favourite things that I've cooked recently:
Vietnamese Noodles with Lemongrass Chicken
The chicken is magical. I cook it on my griddle pan and the marinade and fat splatter everywhere making an unholy mess but I don't care because it tastes amazing. Charred, sweet and salty, the chicken is perfect with light, bright salad and vermicelli noodles. I recently bought a super sized bottle of fish sauce as I'm getting through it at an alarming rate due to cooking a lot of Thai and Vietnamese food. I've also ordered a splatter guard.
Chicken Chasseur
I tried my first Chicken Chasseur at an amazing supper club and have been dreaming about it ever since. Before this recipe I hadn't cooked with chicken legs much but I'm a total convert; they're completely delicious, well priced and, for some reason, seem really elegant to me.
I used a James Martin recipe and had a taste while it was cooking. It was good but not like the chasseur at the supper club… until the sauce reduced and suddenly there it was! Sweet, rich and deeply flavoured, it has almost a third of a bottle of wine in it, which is fine by me.
I served this beautiful chasseur with an equally elegant jacket potato. I had intended to make mashed potato the Lorraine Pascale way, by baking the potatoes and scooping out the insides, leaving the skins to be loaded with cheese and other goodies but in the end I couldn't be bothered. The second time I cooked the chasseur I served it with steamed potatoes (in the photo), which are probably better suited for this dish but not as tasty, in my opinion.
Apple, Sultana and Cinnamon Muffins
In general I like to bake muffins that are low effort and don't contain masses of sugar. For me, 100g total is good, give or take. These apple and sultana muffins from the BBC Good Food website ticked the boxes and lived up to their positive reviews.
A brilliant person named Harry left a tip on the original recipe which suggested dicing the apples rather than grating them and this was a very good idea as it made the texture of the muffins far more interesting. I topped the muffins with flaked almonds and a tiny sprinkling of demerara sugar (no more than 10g across the lot) to make them more appealing because in the BBC's picture they seem a bit pallid. They look like they're going to taste healthy but thankfully they don't - they're sweet, light, more-ish, quick to make and they freeze well - they're my new favourite muffin. I sent the recipe to my mum and she approved too.

Bread Maker Pizza
I'm still working on this one. I've had three goes during lockdown and the pizzas were nice but there's room for improvement. 
My first batch used strong white bread flour and the 'pizza dough' setting on my bread maker: 6/10.
The second used 00 flour and this was better: 7/10.
The third batch used a sourdough starter, 00 flour and the 'rustic sourdough' setting on my bread maker but I didn't give the dough a second rise so the pizza tasted great but was quite tough: 5/10 but there's potential.
For the sourdough base, rather than baking it in the oven I cooked it in a frying pan and finished it under a hot grill. I think this might work well if you have a cast iron pan that gets really hot but in my regular frying pan the base took a while to cook and I think this contributed to the toughness. 
My next pizza will use the same dough as the third batch but I'll give it a second rise and bake it in the oven. If that doesn't satisfy then I've got Meera Sodha's plain flour no rise pizzettes to try and if I still haven't cracked it I'll probably give up and phone Papa Johns. 
I read that you can't expect to create a restaurant quality pizza at home because professional pizza ovens are constructed to be very hot on the bottom to crisp the base and cooler on top so the cheese doesn't burn. I understand this in principle but it doesn't stop the anticipation that maybe one of my attempts will somehow produce a world class pizza rather than, "Well, this is fine... and think of the money we saved by not ordering a takeaway".