Terraillon Rechargeable Kitchen Scale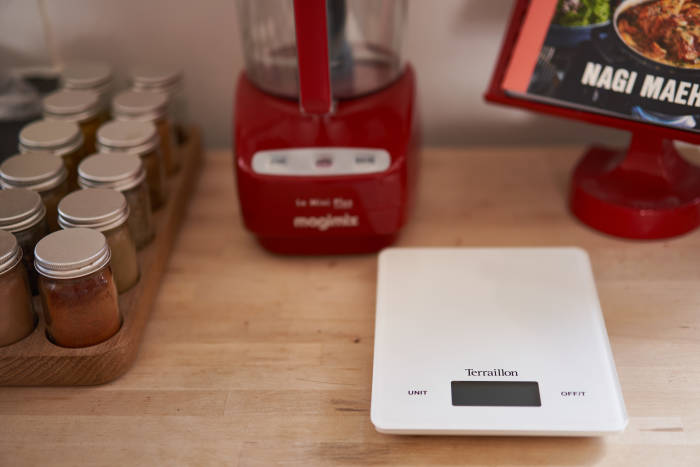 I've been using Terraillon's Smart USB Kitchen Scale for over six months and I'm really happy with it. It's decent, cheap and the battery lasts for ages (I've charged it twice since I bought it). The fact that it's rechargeable means I don't have to turn it off to conserve the battery - I use it then leave it to turn itself off.
The scale turns on automatically when it detects weight. The tare (zero) function works well, although sometimes it needs an extra press, and there's a liquid conversion for water and milk, which I never use. The display is clear and the surface is a single, smooth piece of glass, which wipes clean easily. There are no crevices for food to lurk.
I haven't tested the scale's accuracy using metric weights but it feels accurate enough, especially when weighing small amounts.
One grumble, which may be a deal breaker for some: the backlight turns off pretty quickly, sometimes within 10 seconds, which is an indicator that the scale will turn off soon after. This is annoying when weighing ingredients for baking, where you need to keep a close eye on quantities. Some people have binned the scale because of this.
I get all my ingredients ready before weighing so I don't return to a turned off scale and I no longer have any issues. If the backlight turns off while I'm still using the scale, I poke it and it comes back on again instantly.
I don't know why it's called a "smart" scale. It doesn't connect to any devices and is all the better for it as far as I'm concerned.
Available from Dunelm and Amazon (affiliate link).
Weighs up to 5kg in 1g increments
Converts between g/ml lb.oz/fl.oz
Comes with a USB cable
A Which? Best Buy (according to Amazon reviews - I haven't verified this as I don't have a Which? subscription)