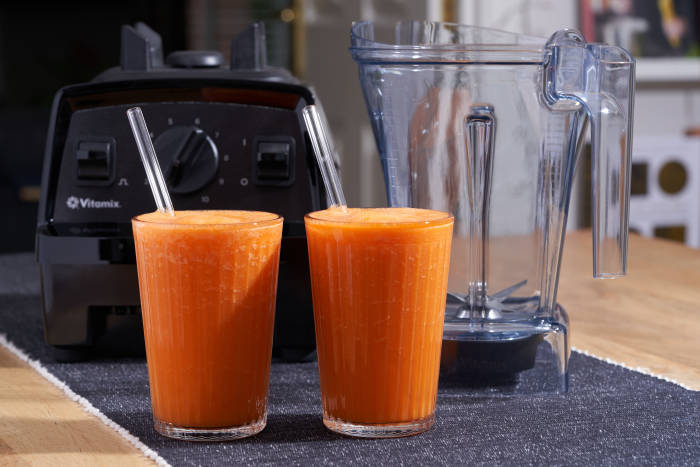 Update
Update two: My mum recently wanted to buy a high-powered, long-lasting blender and asked me if she should get the Vitamix E310. I've owned mine for a year and a half now and I'm still getting great use out of it but my mum has mild arthritis in her hands. Because of this I couldn't recommend the E310 as I think she'd struggle with the lid.
After a lot of research I recommended BlendTec's Classic 575 Blender with the Fourside Jar. I finally got a chance to use it over Christmas and I was mightily impressed (the design of the lid is lovely). If my E310 died outside of its warranty I'd replace it with the BlendTec 575 immediately.
Update one: After eighteen months of use, my E310 jug is looking a little tired, despite careful washing, drying and dishwasher avoidance. I can't say that it bothers me and I'm still happy with the E310 overall.
Summary
+ Great container size
+ A cheaper, utilitarian model
+ The smoothest smoothies
+ Frozen fruit is fine
+ Other negatives in reviews that I haven't encountered
+ Easy to clean
- The lid and spout
- The clear, hollow handle
- It's loud
- Five year warranty
- Replacement containers are expensive
After years of dithering I finally bought a Vitamix (affiliate link). I assumed I'd want one of the new Ascent Series Smart System Blenders but because I only really want to make smoothies I figured I'd need to get the smaller cups and adapter as well. It totalled to over £700 and that wasn't even for the top of the range model. 
Surprisingly, a trawl through the reviews didn't make me want to buy any of the Ascent Series. While the Vitamix brand is well regarded and used in plenty of professional kitchens, a lot of people seem to have difficulty getting the Smart System motor base to recognise the smaller containers. These containers have a narrow bottom (at the opposite end to the blade) so frozen fruit and protein powders can get stuck and they're personal sized so if I want to make a smoothie for two (pretty much every smoothie I make) I'd have to blend twice. Conversely, the 2 litre low-profile jug that comes with the Ascent Series apparently struggles to process smaller portion sizes and I remember my old 2 litre Philips blender being overkill for two people.
I really needed a new blender though. My Nutribullet had been on its last legs for months and I finally let it go when I found a small metal shard (or jagged metal Krusty-O) in my smoothie. The Nutribullet went straight in the bin but I just couldn't bring myself to hit the buy button on another Nutribullet, especially as the binned one was a replacement for one that had died just within its warranty.
I looked into classic and legacy Vitamix models but the well reviewed 5200 (with a narrow blade base that's good for smoothies) is way too tall to fit on my countertop and the E320 has a low-profile 2 litre container like the Ascent Series so it was a no go. Then I saw the Vitamix E310 (cue angels singing). I'd initially disregarded it because why get a 310 when you can get a 320? Because it turns out that the E310 is the only Vitamix that comes with a 1.4 litre container.
Before I get into the good and bad bits of the E310, I should say that I mostly use it for making smoothies and occasionally milling flax seeds. I don't make soup, dough, flour or nut butters but from what I've read it manages these well. Check out Blending with Henry's video where he makes peanut butter using the E310 using just peanuts, no oil needed.

The good bits
Great container size
For me, 1.4 litres is the perfect size for a household of two and Elizabeth Martin from Healthy But Smart agrees. This was the review that convinced me to buy the E310 and it's really thorough and helpful*. The container size means that I don't have to buy any additional bowls, cups or adapters. While I liked that the Nutribullet came with an array of different cups and lids, finding a place to store them all was a pain. The only accessory I store for the E310 is the tamper. 
The E310 sits on my countertop underneath a cupboard, which it clears by a few centimetres. It's 46cm (18") tall and before it arrived I wasn't 100% sure it would fit but it's fine. The footprint is considerably larger than my compact Nutribullet.
*The Healthy But Smart review states that the containers can't be upgraded for the E310 but I contacted Vitamix to double check and they told me that the E310 is a Classic C-Series model so the C-Series containers are compatible, specifically "the 64 ounce classic (2 litre), the 48 ounce (1.4 litre), the 32 ounce (wet and dry, 0.9 litres), the Aer Disc, and the Personal Cup Adapter".
A cheaper, utilitarian model
The E310 is at the lower end of the price scale for a Vitamix blender because it has zero bells and whistles and is as basic as a Vitamix gets. There's no power switch on the side, no presets, no timer, no SELF-DETECT™, no wireless connectivity - just an on/off toggle, a pulse toggle and a speed dial. I don't mind this as it makes the blender incredibly easy to use; just flip the switch, dial up the speed, blend, turn off, done. 
The smoothest smoothies
The first smoothie I made came out so velvety smooth I was astounded (sorry for the overuse of "smooth" but there's no other word for it). I'm used to the Nutribullet, which I think makes a great smoothie but this is on a whole other level.
I immediately cleaned the container and refilled it with what I considered to be a challenge: 1 cup of water, 2 satsumas, 2 carrots roughly cut into 2" pieces, a tiny knob of ginger and a handful of ice - blended on speed 10 for 1 minute. While I can't quite call it carrot juice, in the sense that juice has been extracted from a carrot with all solids removed and only liquid remaining, it's very close. Even better, all the pulp, fibres and goodness are still in the drink. I've since realised that carrots pose no challenge whatsoever for a Vitamix, which is great as I'm positive I would have burnt out the motor of my Nutribullet had a carrot gone anywhere near it.
Frozen fruit is fine
I read many, many reviews before buying the E310 and my main concern was that that the blender might struggle with frozen fruit, as reported by several people. 90% of my smoothies include frozen fruit so this would be a deal breaker. I couldn't understand it though as the E310 has a 2 horsepower motor and my Nutribullet coped fine as long as the liquid levels were sufficient.
Vitamix replied to a lot of the complaints advising that ingredients must be added to the container in the correct order: "liquids first, then dry goods, leafy greens, fruit and veggies and finally ice and frozen ingredients". To date I haven't had any issues with frozen fruit or ice.
Other negatives in reviews that I haven't encountered
Some people found that the base of the E310 sometimes "walks" across their countertop while blending. They might be processing hardier ingredients than me but I've never had this happen and I feel comfortable walking away from the E310 while it's on.
The Vitamix container drops onto the base and there's no clipping or pushing it into place to lock it. Some people have complained that it doesn't feel secure (I don't agree) and that once the speed is turned up high, the container shifts a little to the right. This is true and it's quite odd; you can see it happening in Blending with Henry's video review when he turns up the dial to make peanut butter. Initially I wondered why Vitamix didn't create more of a snug connection to stop the shift but I believe it's because a super tight fit would cause more wear and tear on the motor and container. Vitamix responded to one of the complaints stating that the shift is normal and that it's not a good idea to hold the container in place to stop it from happening. Once the container has shifted it's fine to hold it down if you're worried but I don't feel the need.
Other complaints mention that ingredients can stick to the sides of the container and not get blended but that's what the tamper is for.
Easy to clean
The E310 container, lid and lid plug are dishwasher safe but they can also be cleaned in the usual Vitamix way, by rinsing out the container, adding a drop of detergent and half filling it with warm water then running the blender for 30-60 seconds. I usually do this or I sometimes hand wash the container as I worry that the dishwasher might make it cloudy. Update: I put the jug in the dishwasher on eco mode all the time and it's fine.
That's another complaint - after a while the container gets scratched and cloudy. Mine got scratched near the bottom after a few uses but I would expect this given that I blend tough vegetables, dates and occasionally seeds. It's too soon to tell regarding cloudiness and I'll update my review in due course. I wish Vitamix made glass containers but glass isn't compatible with the speed of the motor. My Phillips blender had a lovely glass jug but the smoothies it produced were chunky and lumpy.

The bad bits
The lid
It might just be me because in all the reviews I've read no one else has complained about this but the lid is weird. I struggle to get the clips to attach to the container. I'm not the strongest person, but not entirely feeble either, and I always have a small battle when trying to put the lid on. It's made from a fairly stiff plastic and I thought it might ease up after a while but it hasn't.
Vitamix advises lining up the clips halfway between the handle and spout and pressing down evenly on the plug. I find this much easier when I'm cleaning the container and everything's wet - then the lid clips on easily. I've taken to wetting the bottom of the lid, putting the jug on a chair then pressing down on the lid (almost like a chest compression). This helps a lot.
The clear, hollow handle
Previous Vitamix containers had chunky, soft-grip handles so no water could get into them. I live in a hard water area and if water gets into the hollow E310 handle I spend far too long twisting up a tea towel and drying the inside of it to prevent water spots. I'll probably stop caring at some point and let it get messy but a non-hollow handle would have been better. Vitamix have used hollow handles on the newer A-Series so it's hard to avoid unless you buy a legacy model.
It's loud
It's not Nutribullet loud, when the bearings have gone and it sounds screechingly, screamingly, bone-and-glass-grindingly loud but when the E310's speed is turned up any higher than 5, it's pretty loud. It's tolerable and it's certainly smoother sounding than the Nutribullet but be warned.
Some people have returned the E310 due to noise and concerns about disturbing neighbours but it's not that bad. I got used to wearing ear defenders when using the Nutribullet so I put them on, turn the E310 up to 10 and walk away for a minute or so until it's done.
Five year warranty
The E310 comes with a five year warranty. This seems decent enough but when you consider that other Vitamix blenders come with a seven or ten year warranty, five suddenly seems a bit mean.
Replacement containers and accessories are expensive
The container certainly feels like it should last and it's covered by the warranty (within reason - "cosmetic changes" aren't covered) but if you do need a replacement it'll cost £125.
There's an overpriced tamper holder that you can buy for £15 that attaches to the Vitamix for convenience. I've never had to use the tamper so it sits in a cupboard. The under blade scraper costs £12.50 but if the container is washed immediately after blending then I see no reason to buy this.

Overall thoughts
I've owned my Vitamix E310 for over a month almost three years. I use it most days to make smoothies and it performs brilliantly. Our vegetable intake has certainly increased. 
I bought the E310 from John Lewis for £314 but I can see that they've recently put the price back up to the RRP of £349. In theory the E310 should last for at least five years so it works out about the same as buying a cheaper blender every year or so (this is a very rough calculation based on the price/longevity of my Nutribullets).
While I've listed the things that bug me about the E310, they're not deal breakers and in general I find it a pleasure to use. It produces fantastic smoothies and because it's so powerful I've been using it to make low sugar vegetable juices that actually taste good; something I've never been able to achieve with my old blenders.
A note on the S30 model
The Vitamix S30 (now discontinued) looks like a good replacement for a Nutribullet, Ninja Blender, etc, but I ruled it out early on. The motor isn't as powerful as the E310 and it has a detachable blade. I'm leery about detachable blades, having had poor experiences with them before, and I specifically wanted the older style of Vitamix that's been so well reviewed in the past.

Would I replace it if it broke tomorrow?
If the warranty had elapsed then I would. Having done new research for my mum (see update) I would now replace the E310 with BlendTec's Classic 575 Blender with the Fourside Jar.