Instant Pot Duo Evo Plus UK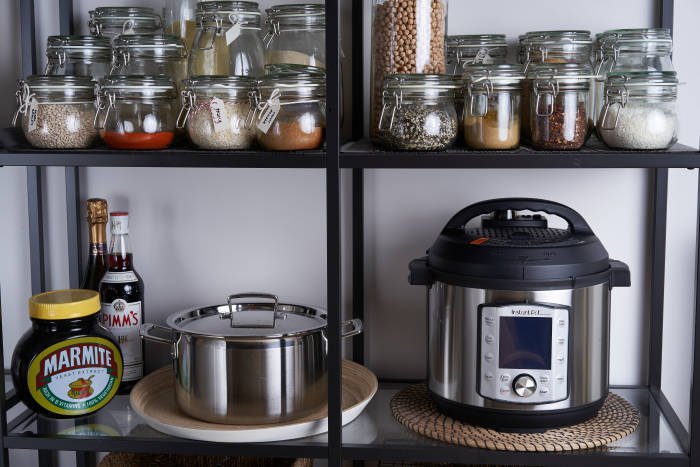 Colin has pointed out that the giant Marmite jar in the photograph makes the Instant Pot look a lot smaller than it really is. Apologies - next time I'll include a banana for scale.
Update
According to an Instant Pot customer service rep, the slow cooking temperatures for the Duo Evo Plus are:
Low: 82-87.8°C / 180-190°F
High: 93-99°C / 200-210°F
Summary
+ Speeds up cooking time
+ Multi purpose
+ Easy to use
+ Sous vide function
+ Prove bread
+ Easy to clean
+ Loud beep
± Burn warning
± Deceptive cooking times
± Initially scary to use
± Not a true slow cooker but good enough for me
- Unexplained error code and questionable customer service
- C8 error
- No '0 minute' pressure cook function
- Large, bulky appliance
- American recipes
- Sealing ring retains smells even after being cleaned
I follow a lot of American food blogs so it was almost inevitable that I would buy an Instant Pot (affiliate link). A friend told me that people who own Instant Pots tend to be really, really enthusiastic about them and I can see why. I've owned mine for several months and it's been a huge help in the kitchen. I generally use it a few times a week and it's completely opened up my weeknight cooking, allowing me to make dishes that used to be reserved for weekends only (hello, pulled chicken).
Currently there are four different Instant Pot models to choose from in the UK. The UK website is lighter in detail than the US website and is missing the comparison chart of all the models (they have many more models to choose from). I went for the Duo Evo Plus because it has all the features I want (sous vide, yoghurt maker, hob-friendly flat bottomed pot) and is the only model with handles attached to the pot. The handles are mentioned in a lot of user reviews and I read variations of, "This version is worth getting just for the handles alone" multiple times. 
Pressure Cooking Today reviewed the Duo Evo Plus against previous models and said, "You can really tell the Instant Pot team researched what people loved and what people struggled with and tried to fix the bad without disrupting the good". The Pressure Cooking Today review is really helpful as the reviewers have clearly used Instant Pots for years and know the ins and outs of all the different models. My review is more about my experience of using a pressure cooker for the first time, my likes and dislikes, and my experience as a UK consumer.
The good bits
Speeds up cooking time
The first recipe I made in my Instant Pot was Pinch of Yum's Instant Pot Buffalo Chicken Tacos. I'd been slow cooking this dish for 8 hours almost weekly but the Instant Pot reduced the cooking time to just 15 minutes.
Hardier cuts of meat cook quickly but for me the Instant Pot's best feature by far is how quickly it cooks pulses. I love Indian dishes like daal and chana masala but they often involve a long soak followed by hours of boiling on the hob. Not any more. The black lentils for Dishoom's House Black Daal cooked to tender perfection in just 30 minutes (with a 10 minute soak) and unsoaked chickpeas took 40 minutes. I should say that the total time is more like an hour for chickpeas as the Instant Pot takes a while to come up to pressure but it's still a big time saver and is almost completely hands off. Adding boiled water to the pot instead of cold will speed things up.
Multi purpose
The ability of the Instant Pot to switch between functions is another huge plus. For years I've been boiling pasta on my hob while a pan of sauce cooks next to it and I still do this but if it's possible to cook the same recipe in an Instant Pot, I will. I sauté onions or garlic, add a tin of chopped tomatoes along with ingredients like tuna or chorizo, followed by a large cup of water and the pasta. Everything gets pressure cooked on high for 4 or 5 minutes depending on whether the pasta is white or wholewheat and that's it. No boiling water, only one pan to clean up and most importantly, al dente pasta. 
For Dishoom's House Black Daal I use the Instant Pot to pressure cook, sauté, then slow cook, which sounds involved but is far easier than cooking the daal on a hob.
Easy to use
I mostly use the Instant Pot to pressure cook, which involves pressing a preset button, adjusting the dial to set the time and temperature, then pressing 'start'. The display on the Duo Evo Plus is clear and the dial allows you to amend the cooking time or temperature midway through cooking (I only discovered this recently and had previously been cancelling and restarting to make changes). Once the Instant Pot gets going there's nothing more to do until it finishes so it's perfect for helping out with dishes like chana masala, where you can prepare the sauce while the chickpeas cook. 
Sous vide function
The Instant Pot has revolutionised steak for me. I love rare or blue steak but find it tricky to cook at home in a frying pan or cast iron griddle. The line between blue and raw is a fine one and out of fear of overcooking my steak I often find myself thinking, "Should I have given this another minute? Am I actually eating raw meat?". Now I sous vide my steaks to 51°C (rare) then finish them on a smoking hot griddle pan. The steaks are still pink inside but thanks to the sous vide function I know that they're cooked all the way through.
Prove bread
The proving function is great for bread dough; I no longer have to heat my oven for 5 minutes, switch it off and hope that it's a reasonable temperature for proving. My 500g bread banneton just about squeezes into the inner pot. It's supposed to have space around it to allow the heat to circulate properly but it doesn't and it's never been a problem.
Easy to clean
The pot, lid, sealing ring and all the other small bits and pieces are dishwasher safe.
Loud beep
The beep on the Instant Pot is set to a helpful volume - loud enough so I can hear it in another room but not so ear splitting that it offends me if I'm in the same room. It's much better than the soft beep on my bread maker, which is so quiet I have to set a timer on my phone so I don't miss when my dough or bread is done.
Some neutral points
I don't want to list these as good or bad because they're neither. 
Burn warning
I've occasionally gotten the "dreaded burn warning" but it's always because I haven't used enough liquid. The manual says that the Duo Evo Plus needs a minimum of 1.5 cups of water but Pressure Cooking Today says it's more like 1 cup. Regardless, a lot of recipes seem to use far less liquid and rely on certain ingredients, like mushrooms or chicken, to release water as they cook. This can be hit or miss but I've learned that the burn warning isn't a disaster. If it happens I cancel the cooking programme, allow the pressure to release, add a bit more liquid and give everything a stir to release any food stuck to the bottom of the pot. I either continue with the recipe, or if it's a pasta dish that's almost cooked, I sauté it until the pasta is done.
Deceptive cooking times
It's worth noting that if a recipe says it'll take 30 minutes to pressure cook it'll likely take longer. Pasta in tomato sauce takes about 7 minutes to come up to pressure then another 5 minutes to cook. Chickpeas in cold water can take more than 20 minutes to come up to pressure before the cooking begins.
Initially scary to use
The first time I attempted to pressure cook I was pretty nervous and made sure to stay in the kitchen the whole time, leaving a good distance between myself and the pot. The Instant Pot gurgles, whistles and emits steam as it comes up to pressure, then when it's finished you can either let the pressure release naturally or flip the switch on the lid to manually release it (the steam shoots out dramatically). Now that I'm accustomed to pressure cooking I don't give it a second thought but it took a while to get used to.
Not a true slow cooker but good enough for me
Dedicated slow cookers heat food from the bottom and sides of the pot. The Instant Pot only heats from the bottom and I've come across mixed reviews regarding the slow cooker setting - some love it, others hate it. So far I've only slow cooked Dishoom's House Black Daal and caramelised some onions but I've found that the Instant Pot does the job nicely. I've never owned a dedicated slow cooker though so I can't really compare. 
I thought I would slow cook a lot more but I mostly choose to pressure cook as it's a big time saver and seems to yield similar, if not better, results.
The bad bits
Unexplained error code and questionable customer service
When I turn off the power to my Instant Pot or unplug the cable, 4 times out of 5, the Instant Pot beeps and shows me a C6H error ("faulty sensor") before it switches off. I contacted customer services as instructed by the manual and received no reply. This was during lockdown so it was understandable and after all, the Instant Pot was still working. A week and a half later I contacted customer services again and heard nothing back. I then contacted them a month and a half later, after receiving a slew of C6H errors, and finally received a reply. I was told that they had replied to my last email and they apologised if it went astray. They said that as long as the Instant Pot wasn't erroring during the cooking process it's "nothing to worry about" and "does not affect the function of the cooker". They were "asking the US" but I've yet to hear back and don't expect to.
The Instant Pot customer service is generally raved about but I wonder if it's for the US side of things rather than the UK.
C8 error
I haven't personally encountered a C8 error ("wrong inner pot in cooker base") but it's a widely reported problem with the Duo Evo Plus. It seems to happen when sautéing on level 5 or 6. I've never used level 6 as I find that anything above a 3 requires constant vigilance and stirring to prevent the food from sticking and burning. The general advice is to sauté on lower settings.
No '0 minute' pressure cook function
This is a minor bugbear but the minimum setting for pressure cooking on my Duo Evo Plus is 1 minute. It sounds like a strange problem to have: why would you want to cook something for 0 minutes? A lot of recipes specify this setting, like Amy + Jacky's Instant Pot Whole Chicken and it's a good setting to avoid overcooking vegetables. It means that the food is cooked in the time it takes the Instant Pot to come up to pressure. If I want to replicate this in my Duo Evo Plus I need to wait for the moment pressure cooking begins then press 'cancel'. Some people have reported that their Duo Evo Plus does have the 0 minute setting so I think there must be a few iterations of the Duo Evo Plus out in the wild.
Large, bulky appliance
The Instant Pot is pretty big (38 x 35.5 x 35cm) and it's the first gadget I've bought that I don't keep permanently on a countertop. Instead, I store it on a shelf and leave the cord plugged in on my countertop so it's ready to attach to the Instant Pot when I want to use it. The Pressure Cooking Today review mentions that the Duo Evo Plus doesn't have a detachable cord but this isn't the case for my model.
American recipes
A lot of recipes for the Instant Pot specify ingredients in cups, pounds and ounces whereas I'm used to the metric system. It's not a huge deal but I find myself having to do a lot of converting and I can't glance at a recipe and immediately know how many it will feed.
Sealing ring retains smells even after being cleaned
The Duo Evo Plus comes with two sealing rings and it's worth assigning one for savoury dishes and one for sweet. I read a recipe where someone made a cheesecake that smelled of the previous chicken dish they'd made. I haven't made any sweet dishes in my Instant Pot yet and I haven't had any cross contamination issues with the sealing ring but it's worth bearing in mind.
Spare sealing rings can be purchased if you plan to cook a wide variety of savoury and sweet dishes.
Overall thoughts
I love cooking with my Instant Pot and I'm a total convert to pressure cooking. The wealth of functions that the Instant Pot performs means that I reach for it for all kinds of dishes. The C6H error annoys me and I have visions of the sensor breaking a short while after my warranty has expired but for now my Instant Pot is working just fine. I haven't tried using it to make yoghurt or desserts yet but I'm getting a lot of use out of it for savoury dishes.
The only accessory I've purchased is a glass lid (affiliate link) that costs £12.99. It can't be used to pressure cook but it's useful for being able to see what's happening when proving bread or slow cooking.
I've only had one small fail and it was due to the recipe rather than the Instant Pot. Curry is an extremely popular Instant Pot staple and I tried a well reviewed American recipe that used a tin of coconut milk and a lot of spices. It smelled amazing. As a British person who's used to eating incredible Indian cuisine from our wonderful curry houses and cooking from failsafe cookbooks by the likes of Meera Sodha and Dishoom, the Instant Pot curry was bland and disappointing. It had no depth of flavour and no complexity; I've had better microwavable ready meal curries. I haven't given up and will try the famous Instant Pot Butter Chicken recipe next or an Amy + Jacky curry. 
Speaking of Amy + Jacky, if you're wondering where to start with Instant Pot recipes, look no further than their website. Amy + Jacky work directly with Instant Pot as recipe developers and everything's tried and tested. I knew I was in for a treat when I made their umami chili, which involves fish sauce and soy sauce. No, that's not a typo. It's an amazing recipe and they have loads more as well as general Instant Pot tips and advice. 
Would I replace it if it broke tomorrow?
This is the first kitchen appliance I've bought that feels as though it might not last for a good few years. I hope it does because if it broke I would replace it immediately.